Omaha's Only Mobile BROOKLYN Pizzeria!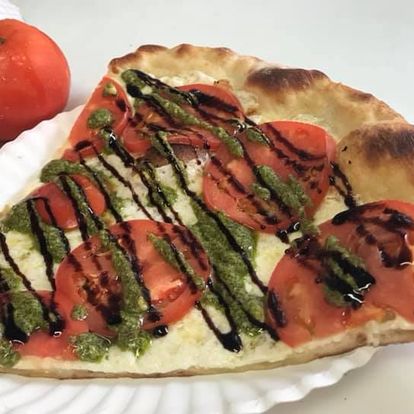 Johnny Ricco's Brooklyn Pizza offerings are seasonal. Listed below is our current menu on the truck, along with some past favorites that we periodically rotate in as product availability changes. We don't put anything on the menu that we don't love, so if it's on here, it's for a reason! All Whole Pies are 20″ (one size only). All Slices one-sixth of a Whole Pie.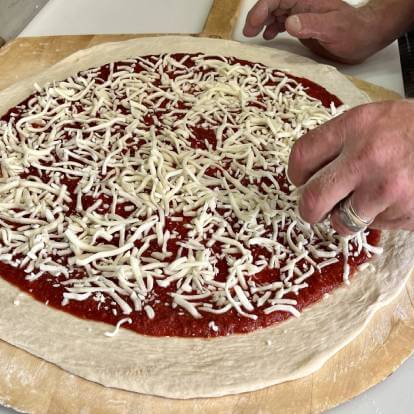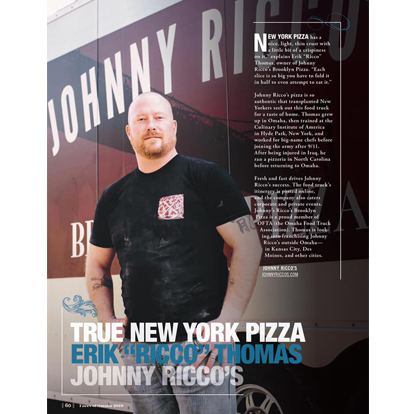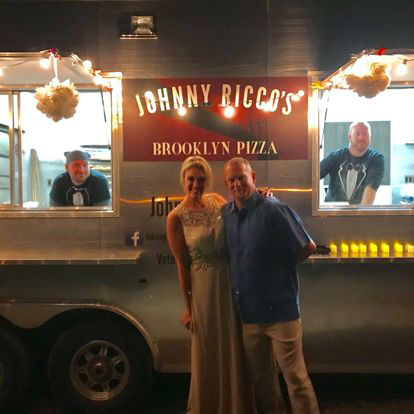 Single Topping
NY Cheese or Pepperoni
Specialty
Ricco's Red: Italian Sausage, Pepperoni, Red Onion, Topped with Basil Pesto
---
Blake's White: Olive Oil, Fresh Garlic, Blended Ricotta, & Mozzarella (Like a delicious slice of cheesy garlic bread. Try with a side of our marinara)
---
Caprese: Olive Oil, Garlic, Mozzarella, Tomatoes, & Topped with Balsamic reduction & Basil Pesto
Only available from April-September.
---
Buff Chic: Mozzarella, Grilled Chicken, Buffalo Sauce, & Choice of Ranch or Blue Cheese
Only available from October-March.
Premium
Da Meat: Italian Sausage, Pepperoni, Angus Beef, & Bacon
Subs
Meatball Parmigiana: Meatballs, Red Sauce, Mozzarella
Dessert
Real Deal Cannoli: Sweet Ricotta & Chocolate Chips
---
Mama Ricco's Fudge: Chocolate, Chocolate with Walnuts, &
Peanut Butter Smooth
Drinks
Coke, Diet Coke,
Sprite, POWERADE,
Water, Peach Tea
Chips
Lay's, Cheetos,
Fritos, Doritos,
Sour Cream & Onion
Sides
Ranch, Blue Cheese, or House Marinara